Do you sell a flea, tick, heartworm and intestinal worm product all in one box ?
Author: Aussie Vet products Date Posted:7 November 2014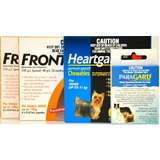 Sarah writes:
Do you have a flea, tick & heart worm all in one box ?
My vet gave me a frontline plus with a little lab puppy on the box & it had both in it. It was up to 11kg & Brixton is now 12kg so Ill need a bigger one.
___________________________________________________________________________________________________________________
Aussie Vet Products responds:
Hi Sarah,
Thanks for your email and congratulations on your new puppy little 'Brixton'.
Their is not 'one' product available on the market right now that does both fleas, ticks, heartworm and intestinal worms.
I would recommend to your our Tick superior protection pack ( its made by the guys that make frontline plus) and has everything you will need to protect Brixton from all of the nasties for either 6 or 12 months. It has extra frontline plus than the normal superior protection pack - as you just need to be applying the flea/ tick treatment every fortnight to keep him safe.
The Tick superior protection pack includes Frontline plus to treat flea and ticks, Heartgard plus to treat Heartworm, roundworm and hookworm and Paragard to protect against other common intestinal worms including: whipworm and tapeworm.
You will need to apply the frontline plus to the back of Brixton's Neck every fortnight
Give him a heartgard chew every month as well as a paragard tablet once every 3 months.
Click Here view this value pack on our website
Please dont hesitate to contact me direct on P: 1300 382 263 if you have any further queries.
Thanks,
Dr Simon