So you have a new fur baby?
Author: Sam Mason Date Posted:10 February 2016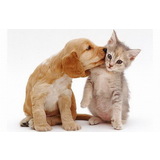 What do you do next?
We have a few pointers to help you along the way with the transition for both your new fur baby and yourself the owner.
Living space and sleeping area:
Setting up an environment where your puppy or kitten can play safely is extremely important when it comes to the transition period. You need to check to make sure there is nothing harmful that your little one can get into the cause damage or injury to themselves or the people around them. A few things to look out for:
Top heavy items that could be easily knocked over
Lilly flowers or human paracetamol (deadly to cats)
Live wires or exposed power points
Holes or gaps in the fence or backyard
Next you need to make sure they have somewhere within the living area that is safe and comfortable for them to sleep. If your puppy or kitten is having a really hard time settling you might want to get something that is familiar to them and place it in the sleeping quarters (a blanket or shirt with your smell or their mums smell).
De-sexing, Vaccinations and other vet care:
If you are adopting your puppy or kitten from a welfare or shelter the chances are they would have been de-sexed, if you are getting from a breeder or from a member of the public you will have to organise this yourself. It is very important if you puppy or kitten is not de-sexed that you start looking into the prices, and special requirements (like age) so you can prepare yourself. Some information on de-sexing:
De-sexed animals are generally less likely to get diseases and certain illnesses such as mammary cancer and uterine infections in females and prostate problems in males.
De-sexing commonly reduces behaviour problems such as roaming, aggression and urine marking in males.
Cats can start breeding from only 4 months of age; each litter could produce up to 6 kittens. Every year your cat could have up to 12 kittens
Dogs can start breeding from 7-9 months of age; each litter could produce up to 12 pups. Every year your dog could up with 12 puppies.
Taking your new pet to the vet when you first get them is vital for making sure they are healthy and up to date on all injections and worming. Most vets will advise you on products to take for any fleas, intestinal worms and general health products. It is important to remember that you need to protect against fleas ALL YEAR ROUND!
Microchipping and registration:
When taking your pet to the vet for its first initial check-up, remember to get them microchipped. This will help in case your animal is ever lost. Their microchip is individual to the animal and will have your contact details on them so that they can be safely returned to you.
Registering you pet with your local council is also very important, some council department can and will issues fines to households that do not have their animals registered.
Toilet training, behavioural training and socialisation:
Toilet training takes time and patience so please understand if your new family member doesn't quite grasp the concept straight away. Toilet training pads are really handy for a new puppy and it is important that you have a new clean, accessible kitty little tray available for your kitten.
Puppies and kittens have different needs when it comes to training. Interactive play with your cat will teach it good manners, and if you are finding that they start to sharpen their claws on the furniture or carpet simply spray them with some water. To stop them from hunting wildlife, get a collar with a bell to alert birds and animals that they are close by. When training your puppy, reward-based training has shown to be the most beneficial and effective method out there. Teaching you pup to sit and stay on command is just as important as teaching them not to jump or chew your shoes.
Nutrition:
Having a balanced diet is critical in the development of your puppy or kitten. Gathering information on what your kitten or puppy needs in their diet should be done before you bring them home. Different breeds and different age groups will have different dietary requirements.
If you are unsure on what to feed your pet you can phone your local vet or if the local pet store or online store has vet nurses and staff with industry experience they can be of help to you.
Grooming and hygiene:
Grooming your pet can not only be beneficial for them but it can be a great opportunity to bond with your new family member. As a newborn they were looked after by their mothers, now they rely on you to clean and groom certain areas they can't get to. A few basic items to get for grooming:
A Brush (soft or regular bristle)
A comb ( for any potential tangles in hair)
A towel
Shampoo and conditioner
Eye and ear wipes
Nail clippers
Leaving your puppy or kitten alone:
It would be great to be able to spend all day and night with your new fur baby, but sometimes we need to leave them alone for short periods. When it comes to leaving them alone make sure they have access to water, their bedding and plenty of toys to keep them occupied until you return!
Good Luck!
AVP x
---
Leave a comment