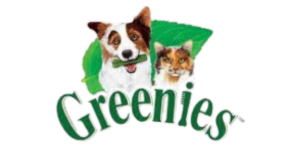 Greenies
Greenies™ canine dental chews were the first
GREENIES™ were the first treat to receive the Veterinary Oral Health Council (VOHC) Seal of Acceptance for control of plaque and tartar buildup. They were purposely designed for dog teeth, and for over a decade, we've been refining the shape and recipe to improve their teeth-cleaning power. It took a team of veterinarians, nutritionists and scientists from The Waltham Centre for Pet Nutrition to develop our line of healthy treats, utilizing the most advanced science and understanding of pets' needs.
We're in this business because we care about pets.
Therefore, our commitment to dogs and cats extends to the veterinarians who work so hard to keep pets healthy. With the counsel of leading veterinarians in the fields of dentistry, nutrition and internal medicine, The GREENIES™ Brand team is proud to provide high-level educational seminars to the veterinary industry as well as informative tools for pet owners. It's our hope to enable a greater understanding of pet health issues and promote a higher level of care.