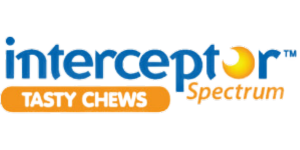 Interceptor
Interceptor™ Spectrum has been demonstrated to be safe in healthy dogs when given according to labeled directions. Interceptor™ Spectrum is approved for use in dogs and puppies 2 weeks of age and older.
The American Heartworm Society and the Companion Animal Parasite Council (CAPC), are independent groups established to create parasite-control guidelines. They both recommend treating dogs year-round with broad-spectrum parasite protection.3,4 However, you should consult your veterinarian regarding specific recommendations.
Why choose Interceptor™ Spectrum for your dog?
Protect your dog against five of the most common types of worms that infect dogs.

Single monthly tasty chew for easy administration

Available in four different dosing sizes, making it easier to treat dogs of many different sizes with one chew

Prevents heartworm disease and treats and controls hookworms, roundworms, whipworm and tapeworms