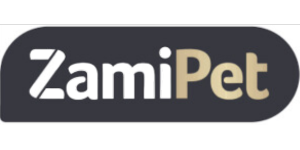 Zamipet
Premium Dog Supplements & Vitamins Australia
Improve your dog's health and well-being With our natural, vet approved pet supplements
At ZamiPet, our vet-formulated dog supplements are scientifically proven to increase your dog's health and vitality
What makes Zamipet different?
Wholly owned and Australian made​
ZamiPet is a wholly owned Australian business. Our great-tasting breakable chew supplements, probiotic powders, dental sticks and treats are manufactured in Australia using key ingredients from their best natural origins, plus locally sourced chicken and salmon.
Formulated by Australian vets
Guiding ZamiPet's innovation is our resident veterinarian and General Manager, Dr Andrew McKay. Having grown up on a sheep and cattle farm, Dr. McKay had an affinity for animal health from a young age and remains passionate about protecting the long-term health and wellbeing of our pet communities.
High quality active ingredients backed by science for effective results
Dr McKay advocates that the value of pet supplements and food depends on both the quality and level of their active ingredients. "We have ensured the ZamiPet range is formulated with targeted, quality ingredients at the right inclusion levels, along with supporting scientific evidence, to ensure our supplements, dental sticks and treats deliver the desired health benefits."
Unique clover-shaped breakable chew
ZamiPet's unique clover-shape chew supplements can be broken into smaller pieces for easy feeding, especially important in managing your pet's recommended dosage requirements. They're also perfect for smaller or fussy dogs who might find smaller pieces more manageable. The clever four-leaf clover shape also provides ZamiPet Dental Sticks with the gentle abrasion to clean your dog's teeth, helping to reduce the build-up of plaque and tartar. The ZamiPet HappiTreats® range also replicates our signature clover-shape.
Veterinary grade, fridge-free probiotic powder sachets
Probiotics are living organisms that are highly sensitive to temperature and moisture so they must be carefully handled at every stage of development, including where and how they're manufactured and also how they're packaged. ZamiPet's veterinary-grade High Strength Probiotics+ are manufactured in an Australian GMP/TGA certified facility and packaged in convenient, fridge-free, single-serve sachets. This safeguards the stability of our probiotics right up to the end of the product's shelf life.
Recycling ZamiPet packaging
At ZamiPet, we are committed to reducing our environmental impact, with a view to evolving our packaging to help keep it out of landfill and play our part in creating more sustainable outcomes. Empty ZamiPet supplement tubs, lids and cartons can be added to your domestic recycling