Popantel F - Flavoured Allwormer Tablets for Dogs
Popantel F is a treatment for gastro-intestinal parasites of dogs. Popantel F is effective against susceptible intestinal helminths and giardia. Popantel F is not a preventative treatment for canine heartworm disease.
Available in:
10kg - 4 tablets

10kg - 80 tablets

35kg - 2 tablets

35kg - 42 tablets
For the control of ROUNDWORMS (Toxocara canis, Toxascaris leonina), WHIPWORMS (Trichuris vulpis) HOOKWORMS (Ancylostoma caninum, A. braziliense, Ancylostoma ceylanicum, Uncinaria stenocephala. TAPEWORMS Dipylidium caninum, Taenia ovis, T. pisiformis, T. hydatigena and Echinococcus granulosus (hydatid tapeworm). Also controls the shedding of oocysts of the protozoan Giardia sp.
Does not control heartworm.
Dosage and administration: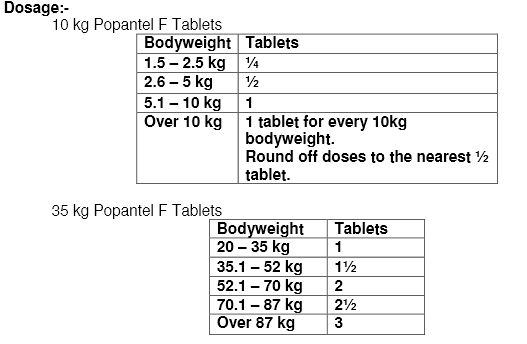 HOOKWORMS & ROUNDWORMS - Dogs and puppies: treat at 2, 4, 8 and 12 weeks and then every month until six months of age; thereafter every 3 months or on veterinary advice. Pregnant Bitches: treat prior to mating, then every 10 days before whelping and at 2 and 4 weeks after whelping.

WHIPWORMS - Treat every 6 to 8 weeks after 3 months of age.

TAPEWORMS (excluding hydatid tapeworms) Treat every 3 months.

HYDATID TAPEWORM - Dogs should not be fed, or allowed to feed on, offal from any species. Dogs in hydatid areas should be treated every 6 weeks. It should be noted that the hydatid tapeworm poses a severe risk to human health by transmission to humans from infected dogs.

GIARDIA - Suspected infection should be confirmed by a veterinarian. Treat for three consecutive days. Repeat treatments may be necessary on veterinary advice.