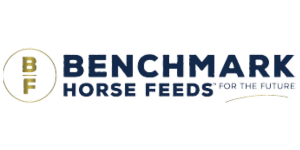 Benchmark Feeds
Our Story
Benchmark Horse Feeds brings an unmatched level of understanding to the horse feed market. Founders Colin Price and Suzanne Hull share the passion for our equine friends with all horse owners.

Colin and Suzanne's equine interests and experiences are many and varied and include sport horse breeding, thoroughbred breeding and agistment, sale preparation and pleasure riding.

Until it was sold to an investment group in 2018, Colin spent 15 years managing the Mitavite business and supporting a great team of passionate people that were an integral part of the product's success.

Colin and Suzanne's families are firmly entrenched in the equestrian community. UK based couple Tim and Jonelle are leading International event riders. Cam is the founder and MD of UK horse feed company Keyflow, Brad is a well-respected horseman, trainer and farrier and Amy competes in top level stock horse classes.
#FeedForTheFuture
Our tag line makes a clear statement that by choosing a premium feed brand you are investing in your horse's future. This can be as pure and simple as a desire to extend the life of your cherished oldie, optimising the diet of your in-foal mare or supporting your horse's performance in your chosen discipline. Regardless of your individual goals feed for the future brings us together in the care of our much-loved equine partners.
We get it
Much has been said about the special characteristics of the equestrian community and the people that make it what it is. While diverse in interests and disciplines there is an overarching set of values and emotions that binds us all to the animal we love so much. Let's face it once you form a relationship with a horse there is no turning back. Even if circumstances take you away from day to day contact the feelings and desire to be near our equine friends will never leave you.

Benchmark Feed's values and culture is very personal and far removed from the corporate style ownership model now pervading the Australian horse feed industry.

We care personally about our products, our customers and of course the horses.

Our mission is to demonstrate this in every way and at every opportunity.