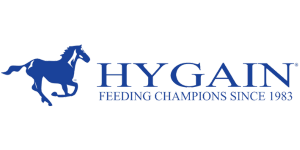 Hygain
The highest standard
Our extensive high Performance, Equestrian, Stud and Supplement product range is backed by Hygain Feeds commitment to excellence encompassing all equine activities. A commitment to an uncompromising insistence on only using the finest certified ingredients, applying the strictest quality controls and employing the latest nutritional research resulting in groundbreaking innovations, so as to provide our customers with the highest possible standards in equine nutrition, standards which our customers have come to expect from Hygain.
How we ensure the highest standard
Our modern state of the art manufacturing facilities utilize revolutionar processes to enhance the nutritional value of our products, improving palatability, increasing feed efficiency and conversion whilst reducing the incidences of dietary related equine disorders. All aspects of our manufacturing processes are quality controlled and certified under HACCP and FEEDSAFE quality assurance programs. At Hygain we pride ourselves on being innovative and progressive in the commitment of reducing our impact on the environment. Our senior management fully support and are committed to our Australian Packaging Covenant Action Plan.
Hygain products incorporate the latest in equine nutrition and unique ingredients such as bio available organic minerals, a live yeast culture for improved fibre, phosphorus and calcium digestibility and a patented form of Mannan Oligosaccarides derived from the outer cell wall of a selected strain of yeast supporting a healthy immune system and promoting gastrointestinal health and performance. Hygain Feeds only use additives which are scientifically proven to deliver major benefits to the equine's nutritional performance and that complement our fully fortified and precisely balanced feeds.